April 8 - 14, 2018
Arrive Sunday, 5 Day Workshop, Depart Saturday
Marsha Rafter
3D Sculptural Flower Mandala
This is my first trip to the Hacienda as an instructor and I am honored and very excited to be invited to teach in this most beautiful, inspiring environment that is Hacienda Mosaico.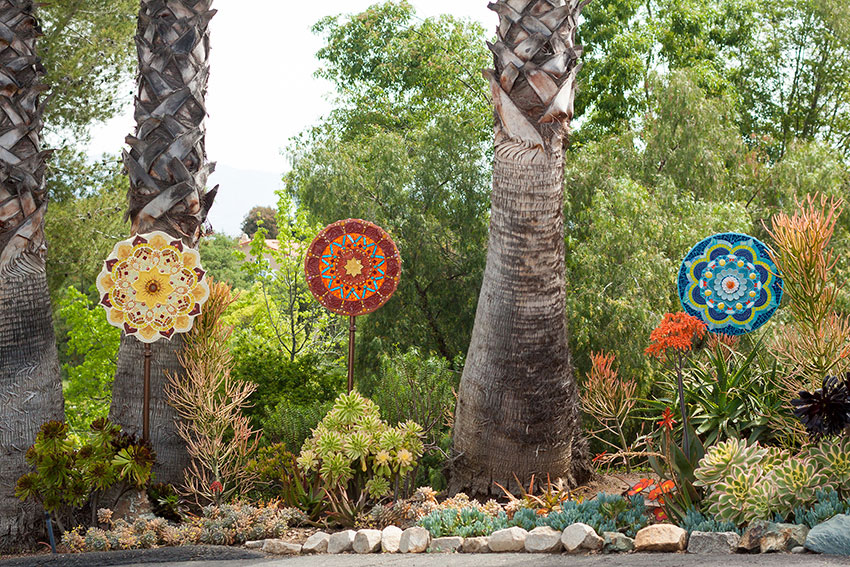 During this five day mosaic workshop, you will learn an amazing variety of skills and techniques to create your very own 3D Sculptural Mosaic Flower Mandala. We will begin by creating carved, highly textured clay tiles which will be fired overnight to be included in your mosaic in the following days. Next, you will learn how to use power tools to cut and shape a wedi board substrate, how to prepare your substrate to be weatherproof outside and how to prepare the wedi for adding your mosaic. You will also learn how to create the structure necessary to eventually hang your creation on a wall or mount it on a pole. Designs for your piece will be discussed ahead of the workshop, and on day two your design will be transferred to your wedi board. Next you'll glaze the clay tiles you created on day one. Then you'll have the freedom to create your mosaic using everything from the custom clay tiles you created to stained glass, mirror, glass gems, and much more. Mixing and custom coloring grout will be demonstrated using powdered tints. Complete handouts with a resource list will be included.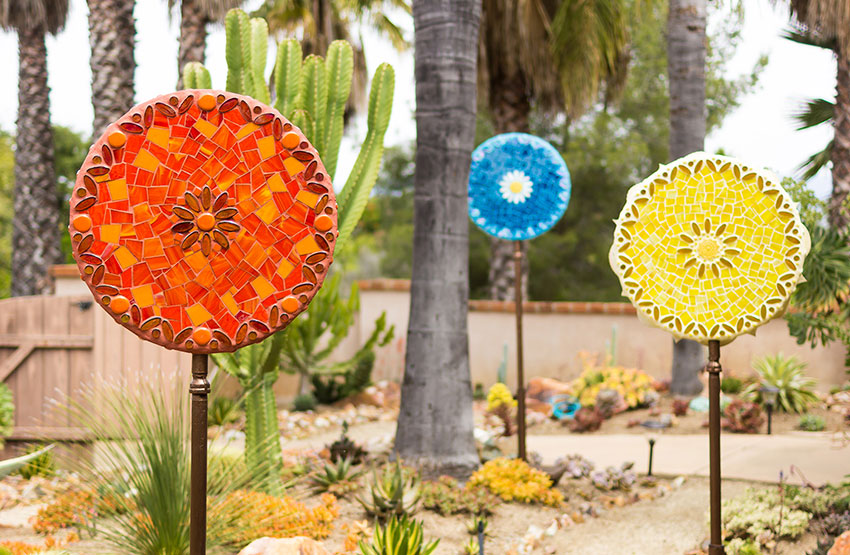 In addition to creating your own piece, we will work as a group to build a larger version of the 3D Sculptural Mosaic Flower to be installed at the Hacienda as a gift.
This workshop is open to students of all levels. Although some mosaic experience may be helpful, it is not necessary. Skills learned can be used and applied to future projects, both large and small-scale for indoor as well as outdoor applications.

Skills learned in this workshop would be excellent for those who want to learn techniques for exterior mosaics as well as those who might want to experience creating a large sculptural mosaic piece in community with others. If you have any curiosity about how to create pieces out of clay for your mosaics, or how to make molds for creating multiples, then this is the workshop for you.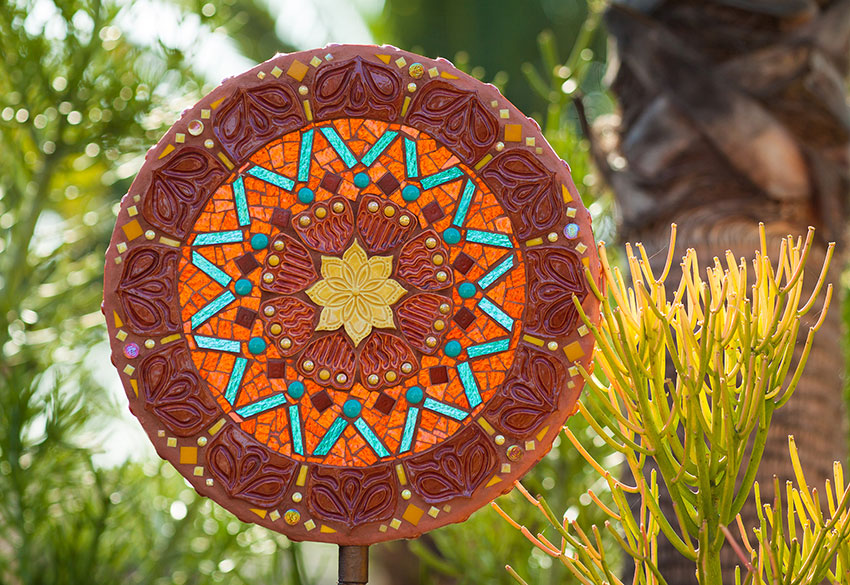 Workshop Fee: $1,950

Workshop fee includes 5 days instruction, 6 nights of lodging, breakfast and lunch on workshop days.
Unlimited use of the studio 24/7.
Instructor will provide appropriate adhesives and a wide variety of mosaic materials.
Students are asked to contribute a small amount of materials for their individual piece and must bring their own mosaic hand tools.
A $500 deposit is required to reserve your spot.

Students are invited to a Hacienda hosted welcome reception on Sunday evening, April 8th. During our week together there will be tons of learning and lots of free time to explore Puerto Vallarta, shop or relax. After dinner each evening we offer optional instructor supervised open studio.
Students depart Saturday, April 14th.

I hope you can join me for this immersive creative experience!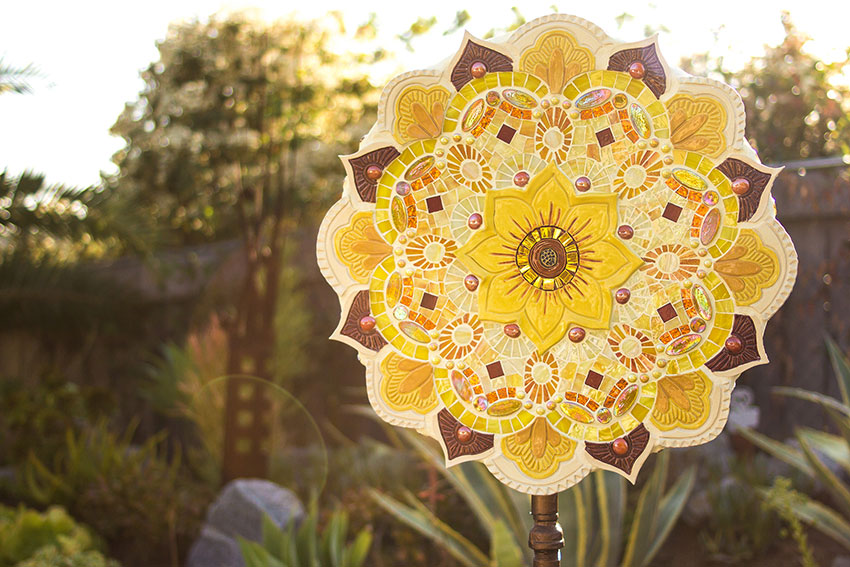 About the Instructor:

I have been creating all my life and the creative juices led me to a degree in Art with a major in Ceramics. After many years as a studio artist, I decided I wanted to teach and since receiving my Master's in Education have taught art to all ages and grade levels over the last twenty years in schools, art centers, in my own studio and at locations throughout the country.
My path to mosaics came through a chance meeting at an Architectural Ceramics workshop and I ended up at the Society of American Mosaics Conference in San Francisco. Since then, I have combined mosaics with ceramics in most all of my work. I am a sponge and have taken workshops from over twenty five ceramic artists as well as over twenty mosaic artists. I guess I am a bit of a workshop junkie of sorts.
I love to teach and one of the things I love the most is learning from my students and sharing ideas and life stories as we create together in community.

Come join the fun! I promise you'll be glad you did.
Please feel free to call or email me with any questions.

Find out more at www.Marsharafter.com
Email:
or
Facebook: Marsha Rafter Contemporary Mosaics
Instagram: marsharafterartist
Pinterest: marshawrafter
Summary:
2018 Workshop Fee: $1,950 (based on double occupancy)
Lodging: 6 nights & 7 days
Mosaic Art Instruction: 5 days
Unlimited Open Studio: 24/7
Meals Included by the Hacienda's Personal chef: Sunday evening welcome reception, 5 full breakfasts & 5 lunches served poolside in a tropical setting and a Saturday departure brunch.
Students are responsible to bring their own tools and some supplies for their personal project.
Materials list & instructions on packing will be sent after registration.

To see more photos of Hacienda Mosaico, click here.

For information about accommodations and payment
contact Sam @


To "see" the Hacienda experience have a look at this video.


For information about accommodations
contact Sam @