refined techniques for glass and mirror with pigmented cement backgrounds with french mosaic artist – valerie nicoladze
march 10 – 16 , 2024
Arrival the Sunday, 5 day workshop, depart Saturday
Learn how to achieve unique effects with cut glass and mirror as well as how to create refined, tinted cement background to offset these delicate cuts.
In combination, these techniques offer a unique, refined and beautiful effect.
Focusing on color, shape, and pattern through a range elegant of setting styles, Valerie guides students through the design process, technical lessons and mosaic execution. Projects are finished using Valerie's signature tinted cement background technique, which forms a smooth field around the mosaic tesserae.
Join her as she shares her signature style and techniques not commonly offered in this special week-long workshop in the inspiring, lush environment of Hacienda Mosaico in Puerto Vallarta.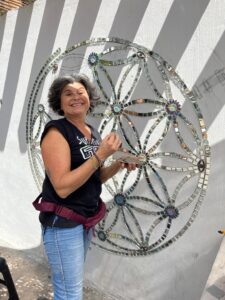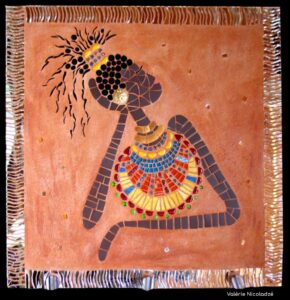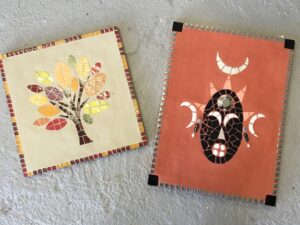 valerie's work reflects both her exuberance with color and design , and her mastery of technique.
Known for her colorful style and contagious enthusiasm, Valerie has been teaching mosaic workshops at her Esprit Mosaique Studio in the South of France for almost fifteen years.
Specializing in the use of her delicate repeating mirror and glass cuts and rich combinations of materials, Valerie's work combines cross-cultural influences, traditional setting techniques and contemporary styling.
Workshop Description:
Valerie will offer instruction in various setting styles for mirror and glass mosaic, her highly decorative, signature lace-like mirror cuts, floral and abstract patterning using these cuts, and the use repetition of shape for elegant effects.
She will demonstrate how she gets her delicate, signature cuts using the French zag-zag nipper. (Registered students will receive a link for purchase options in their home country ahead of the workshop.)
Valerie will offer instruction in her spacial technique of using a smooth cement background around the patterns This is sure to open up new artistic horizons for students!
Participants will create their own mosaic to take home. Substrates provided.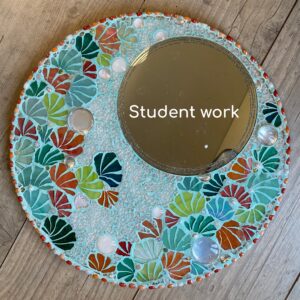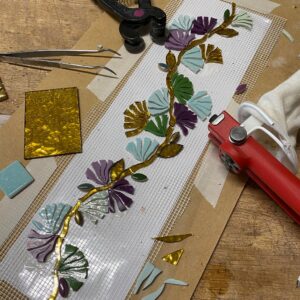 Workshop Elements :
The week will begin with a presentation of Valerie's studio practice, decorative and community-based work in France and Internationally.
Precise lace-like cuts
Valerie will guide students in exploration of exciting combinations of shape and pattern through several exercises.
Students will learn how to use the Zag Zag nipper and how to shape glass and mirror with this and other tools. Students will work on their own combinations of shape and colors to create a beautiful and unique mosaic piece.
Light large cement background
The second part of the workshop will teach how to make a large space of pigmented cement background to surround the mosaic. This is a unique and original technique which offers a new way to design mosaic projects.
This process highlights the patterns of mosaic by creating large colored areas of hand-tinted cement. Valerie will bring pigments from France for students to use in their projects.
Students will learn to apply this tothe prepared mirror and glass elements they worked on..
These technical practices will be presented with multiple examples of work, samples and documents to keep and memorize the processes.
This five-day creative interlude with Valerie will offer participants new influences, techniques and creative visions to add to their practice. Enjoy the inspirations of Provence that Valerie brings to Hacienda Mosaico!
A bientot ! I hope you will join me in this paradise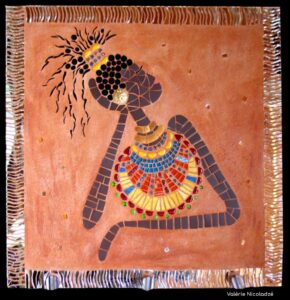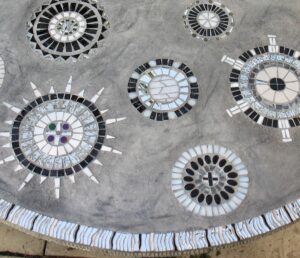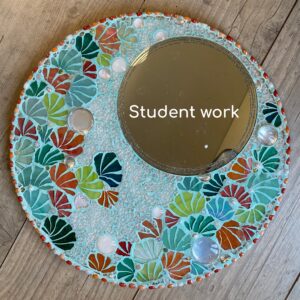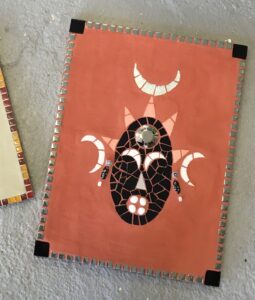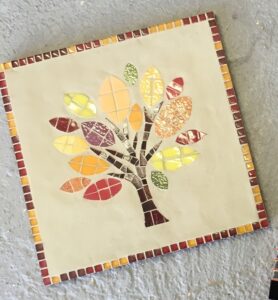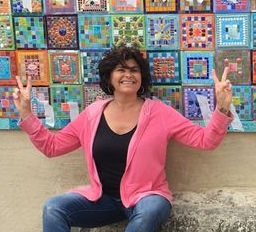 Workshop Information:
Workshop fee: $2000 USD
Includes:
Six night lodging at Hacienda Mosaico
Sunday Cocktail Reception
Breakfast and lunch included (served poolside)
Five days of instruction / 24-hour Studio Access
You are on your own in the evening to explore Puerto Vallarta's shopping and dining opportunities.

Studio and Hours:
Students will have plenty of time to explore these exercises and focus their mosaic project, while they enjoy the community of international mosaic artists and creative adventurers in Hacienda Mosaico's beautiful, open air studio.
A list of necessary tools to bring will be sent to the students after registration .
Workshop hours are 10 am – 4 pm, and students have access to the studio 24-hours a day.
Late afternoons and evenings are free.
Participants will enjoy a great night's sleep in artist-designed, well-appointed rooms showcasing Mexican art and decor.
Rooms are for 2 persons with 2 king size beds .
This workshop is open to students of any levels. Although some mosaic experience may be helpful, it is not necessary.
Hacienda Mosaico:
Located on the Pacific coast in 1 hour flight from Mexico City, in one of the nicest seaside towns, Hacienda Mosaico is an artistic oasis which invites visitors to experience art, joy and creative sharing in an enchanting, relaxing environment.
Colorful mosaics and artwork are tucked amongst the lush foliage. Discover hidden niches for conversation or contemplation. Enjoy the swimming pool, healthy meals prepared by on-site chefs and staff that is dedicated to the well-being of their guests.
Surrounding :
Hacienda Mosaico is located in the "Versalles" district, a quiet but lively district, in full transformation, with plenty of small restaurants and cafes, 7 min walk from the ocean and 15 min from the city center.
It is very easy to quickly find your way in the neighborhood and stay around the hacienda for the evenings.
The taxi service is inexpensive and works very well to crisscross the city, as well as the Uber application.
Downtown Puerto Vallarta is very colorful, very pleasant, by the sea and full of galleries, stalls and shops of all kinds.
A long promenade (" the Malecon" ) runs along the beach with many restaurants and entertainment.
A craft market takes place every Saturdays, in the incredible square " El Parque de los azulejos" https://www.tileparkpv.com
Puerto Vallarta is a safe place.
Banks, distributors, pharmacy, doctors, restaurants… you will find everything you need.
For those who want to extend their stay, there are many places to discover in the region.
Valérie has been teaching in her studio in Provence, south of France and leading community projects for over 16 years. Her work is colorful , using mix materials and oriented to decorative pieces , including personal ceramic pieces . Passionated traveler, she likes to join and share projects with other mosaic artists all over the world and organizes community projects in different places .
In love with hacienda Mosaico , she assisted and participated to 4 of Laurel True's beautiful mosaic murals and is thrilled to have the opportunity to teach in this wonderful place.