THERE ARE TWO WAYS OF BEING CREATIVE, ONE CAN SING AND DANCE, OR ONE CAN CREATE AN ENVIRONMENT IN WHICH SINGERS AND DANCERS FLOURISH
Warren G. Bennis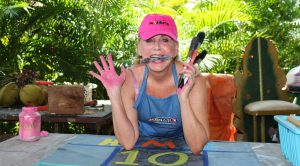 Hacienda Mosaico is expansive, tropical and artful.
Our goal is to offer an accessible place for individuals and groups to develop and execute ideas in a non-competitive atmosphere….a place for art and ideas in a creative and comfortable environment in an exotic location, giving fresh images and ideas with lots of fun group energy.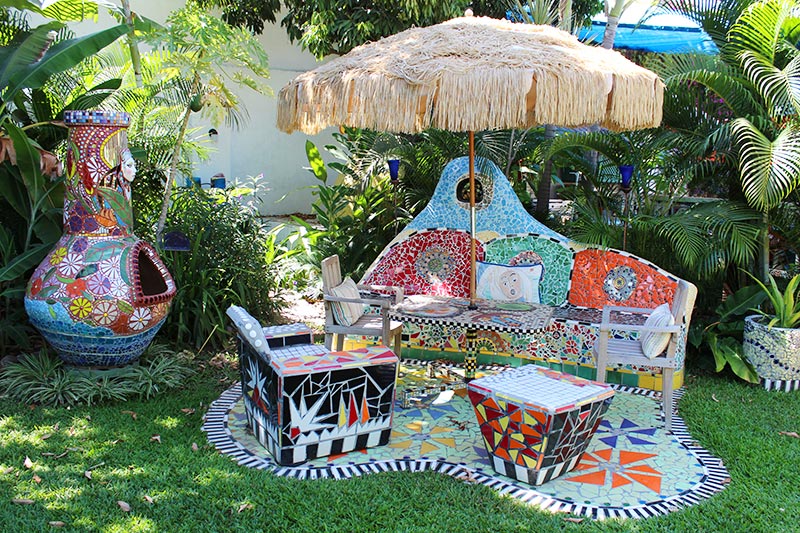 Hacienda Mosaico Puerto Vallarta
This walled garden hacienda with swimming pool and inviting common areas is artist owned and operated. Art abounds! Made on site mosaic furnishings serve to enhance your breakfast in this lush garden setting. Palm, mango, guayaba, and banana trees, along with flowering ginger, hibiscus, jasmine, bird of paradise as well as the ever-present bougainvillea create delight for all the senses.
Hacienda Mosaico is located in Colonia Versalles, a typical upscale Mexican neighborhood that affords visitors a chance to experience the charm of daily life in old Mexico. You will find cobbled streets, where tortillerias and markets catering to the locals rather than the tourists…..craft shops, cantinas, night life and adventure. Hacienda Mosaico is ideal for small retreats and intimate parties as well as a quiet respite from the busy world….a tranquil vacation destination in a tropical environment for adults.
Independent travelers and thinkers often prefer Hacienda Mosaico rather than a hotel because it offers the opportunity to meet the local community. As with most seaside resort towns, the closer you move to the beach the more built up and touristy it becomes. Moving only a short distance away from the ocean you quickly step into old Mexico. With the beach only blocks away, Hacienda Mosaico offers a quiet, friendly, residential neighborhood and the convenience of a central location. Here it is possible to experience the "real Mexico".
Hacienda Mosaico is located just 3.5 miles south of the airport in Colonia Versalles.
Wireless Internet is Available at Hacienda Mosaico.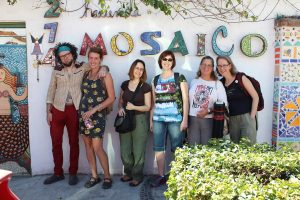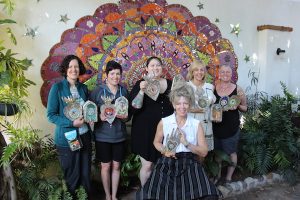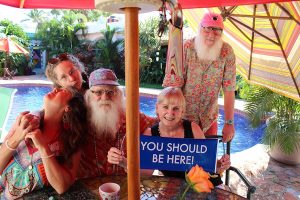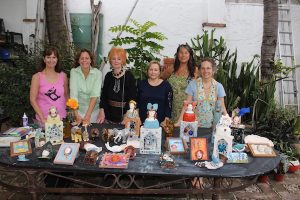 All booking require a 50% deposit
Deposits can be made by direct deposit or via wire or bank to bank transfer. In order to hold a reservation we must receive the deposit within ten days of the booking being made. The balance is due 45 days prior to your arrival date.
Cancellation and refund policy:
All cancellations are subject to a 20% handling fee.
Reservations cancelled prior to 90 days, 50% is refundable.
Less than 60 days, 25% is refundable.
Less than 45 days fee paid is non-refundable.
Should any workshop/retreat be canceled the entire amount paid will be refunded within fourteen days after cancellation. Once this occurs, Hacienda Mosaico has no obligations regarding any additional costs or fees related to the issuance and/or cancellation of airline tickets or other travel reservations. Hacienda Mosaico accepts no liability for any airline cancellation penalty incurred by the purchase of a non-refundable ticket. Nor does it accept liability for canceled flights.
Travel insurance
It is strongly recommended that all workshop participants purchase Trip Cancellation, Emergency Medical Evacuation, Baggage, Accident and Medical insurance from a reputable insurance company.
Congratulations for your creation.. holding people like you do in their journey of creative expression. What a grounded and cosmic service to humanity. I'm sending you a huge hug.. and Xen, such a sweet and awesome soul. You guys are s lucky to have each other.
Laurel
Thank you for everything. This is the most beautiful place I have ever stayed. Kinship with my soul.
Aimee and Ruben, Southern CA
I absolutely loved it there, loved Sam, and Puerto Vallarta, too. The hacienda is fabulous, and I made some great friends! Food is delicious, too! In a few days, I got to know the people in the local café (went there every morning at 8 am for my expresso), the local pharmacy, ate delicious home made guacamole with tortillas in the local dive every night. I lived every moment to the full! Great art, too!
You two are such a dynamic duo!! I am forever changed by our week together, and Sam and Xeno are incredible hosts, living in Paradise🌴
The metamorphosis began way before we arrived at the Hacienda, everyone coming together with their individual and unique purposes. I was in awe of what can happen when a group of creative, cooperative participants join forces, manifest beauty and celebrate together🦋
What we create in the micro, we build in the macro💜
susan
Sam and Xenofon,
Thank you to you and your staff for our our magical stay at Hacienda Mosaico. We really appreciated all of the 'extra' things you and your staff did to make our stay 'special'.
Mabel Quinto, Nevada.