sandy hruska
Ancestral vessels
october 29 – november 4 2023
Arrival on Sunday, 5 day Workshop, Depart Saturday
What better time to remember and honor our ancestors than over the weekend of "Day of the Dead" or "Día de los Muertos" in a beautiful setting in Mexico. Long has been the tradition to build ofrendas (offerings) and altars to celebrate the return of the souls who have gone on from this world. This tradition of celebrating dates back at least 3000 years to the Aztec. All Saints Day and All Souls day (November 1 and 2) are also recognized as days to remember and honor the departed.
Taking a page from this tradition is how we will begin our workshop on Ancestral Vessels. Much too often, the pictures and remembrance treasures are collected and shoved in a drawer or stuck in a closet with the hopes of someday creating a space for the memories. Occasionally we take things out to reminisce, but then put it back. Because even though we want to put it together into something meaningful, we don't know how to start. That is all going to change with your Ancestral Vessel Creation.
This workshop is designed to take your valued possessions and create your story by building a container and placing sacred items in such a way to preserve and bring these memories back to life, a time of honor and remembrance. We will use techniques that do not require one to be an artist or a craftsperson but rather a Creative.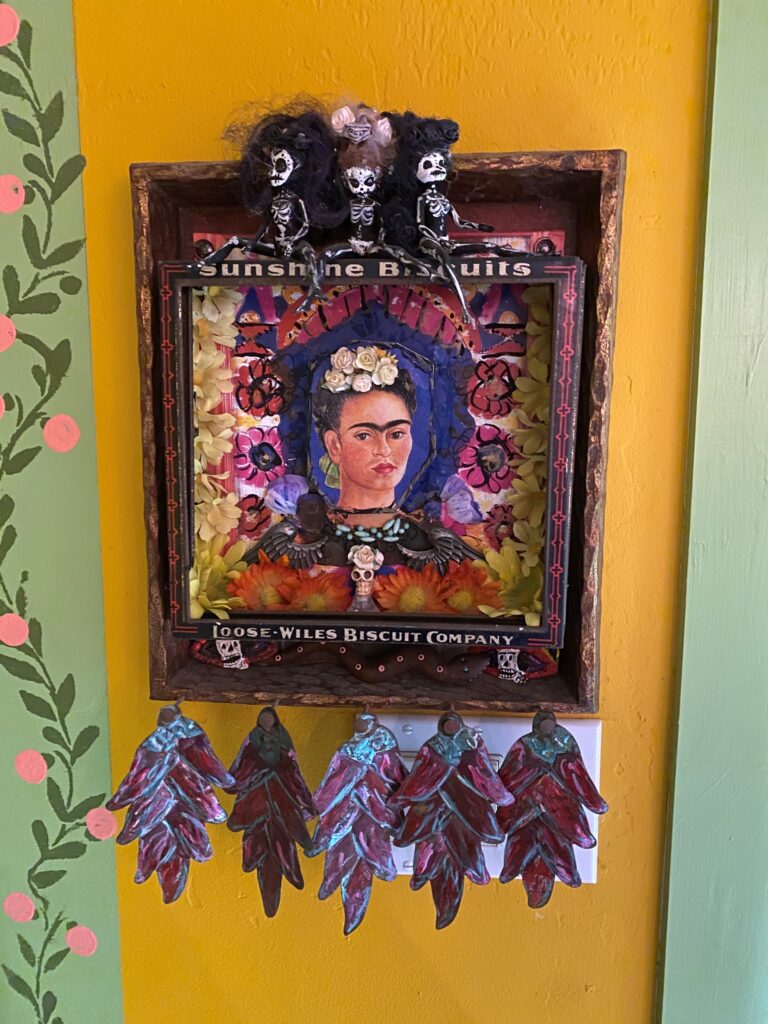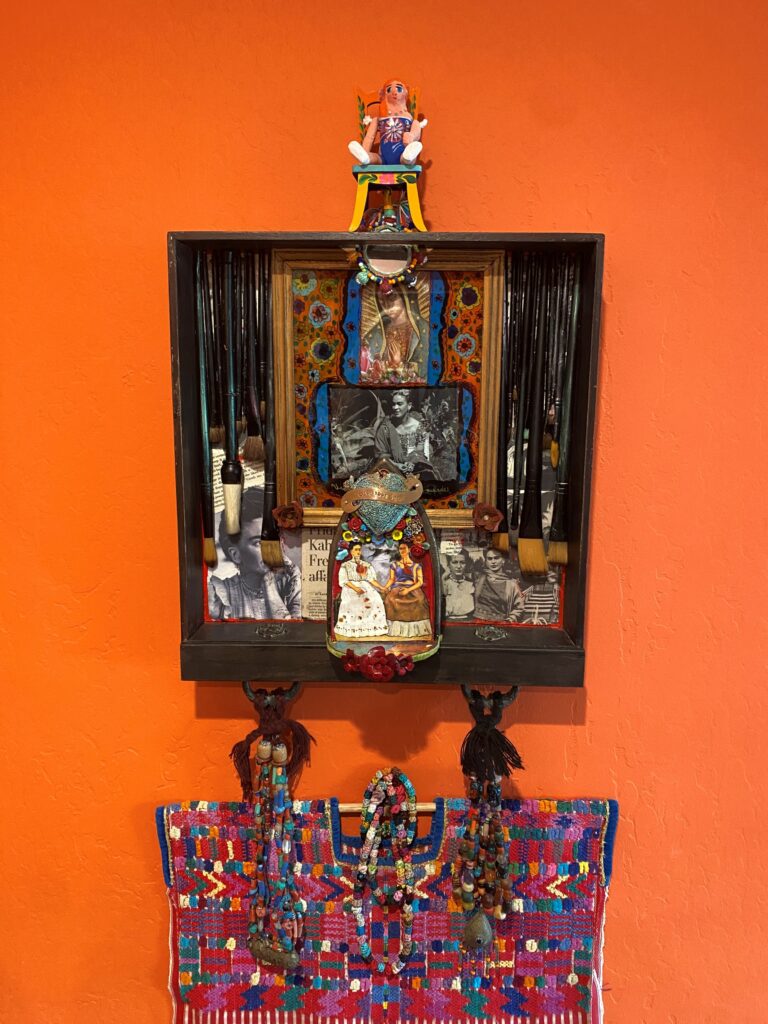 The Workshop Routine:
Each morning we, as Creatives, will greet the day with a stretch and centering meditation. Healthy and delicious breakfast and lunch will be provided.
During work sessions you will be introduced to the some of the following techniques to use in your vessel:
Background color building
Preserving delicate photos and objects using resin
Stitching with beads
Waxed linen as overcoat
Using stamps to create statements on fabric
The art of using positive and negative spaces
Cold Joins and connection
Treasure grouping to objectify story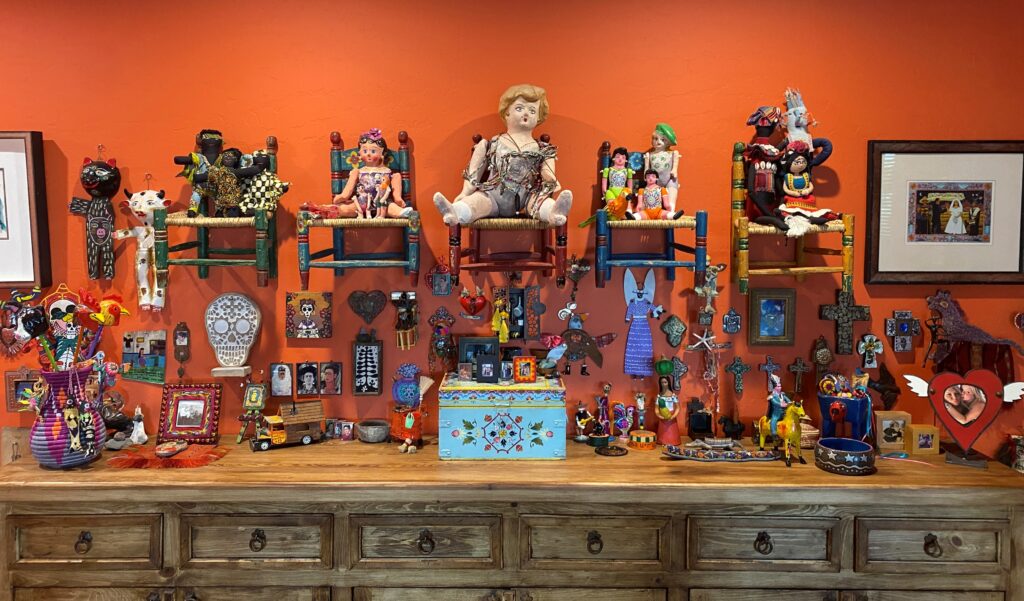 In addition to the Vessel, you will be making a talisman which can be placed in your box of curiosity.
There will be plenty of time each day for relaxation and extra studio time. We will be taking an exploration and collection walking trip about the town.
Opportunities for great shopping and dining experiences will also be available.
Most exciting will be experiencing Día De Los Muertos which will be unfolding before our eyes as it has for centuries with Catrinas parading, Mariachi bands playing, and candle lit parades. The streets will be alive with celebration!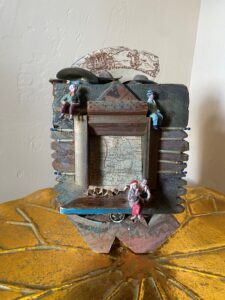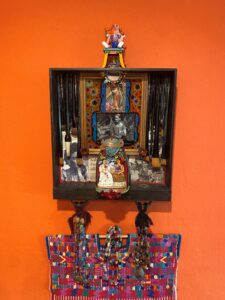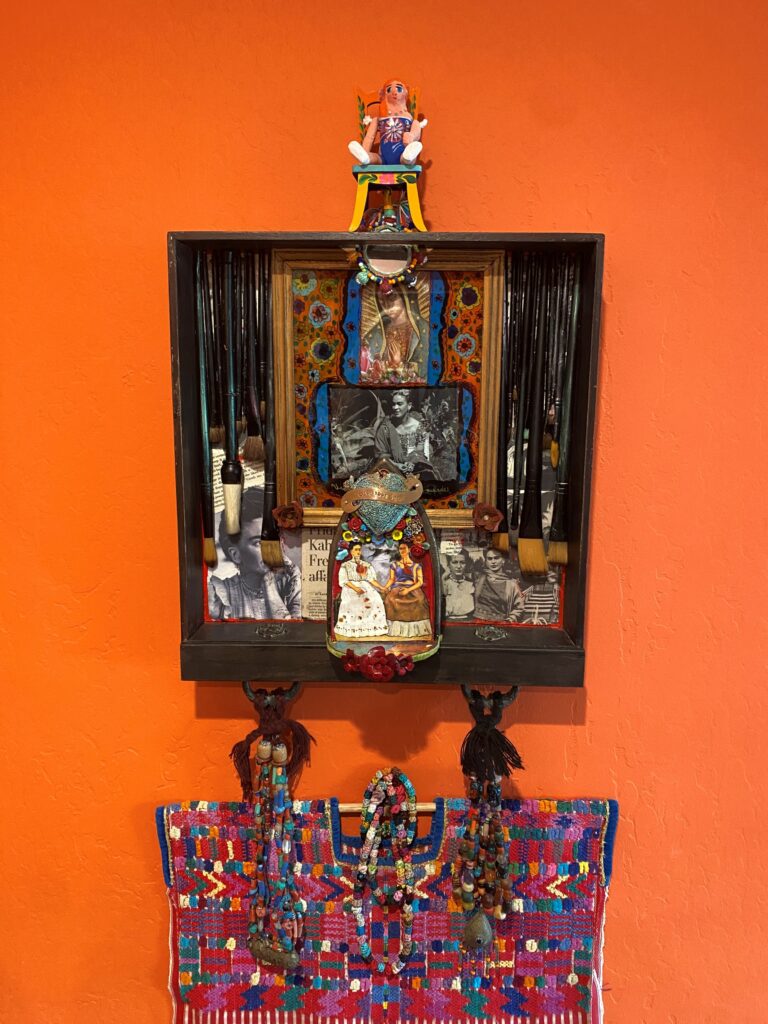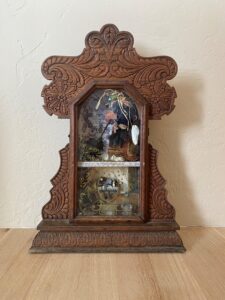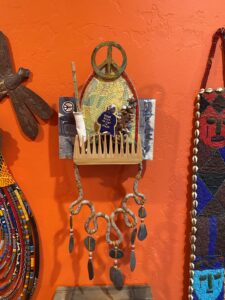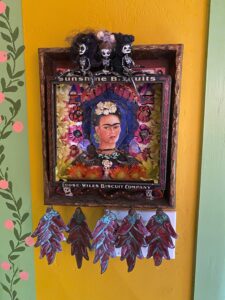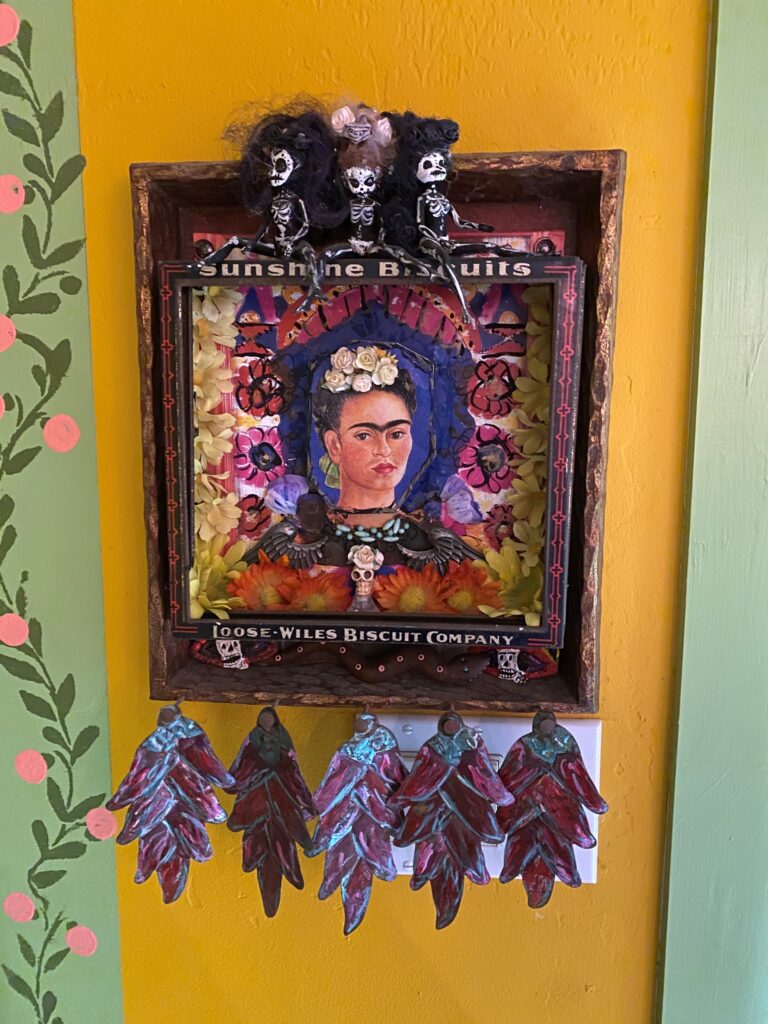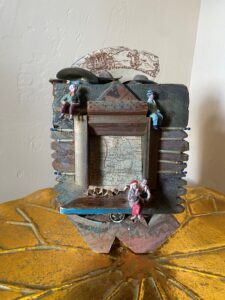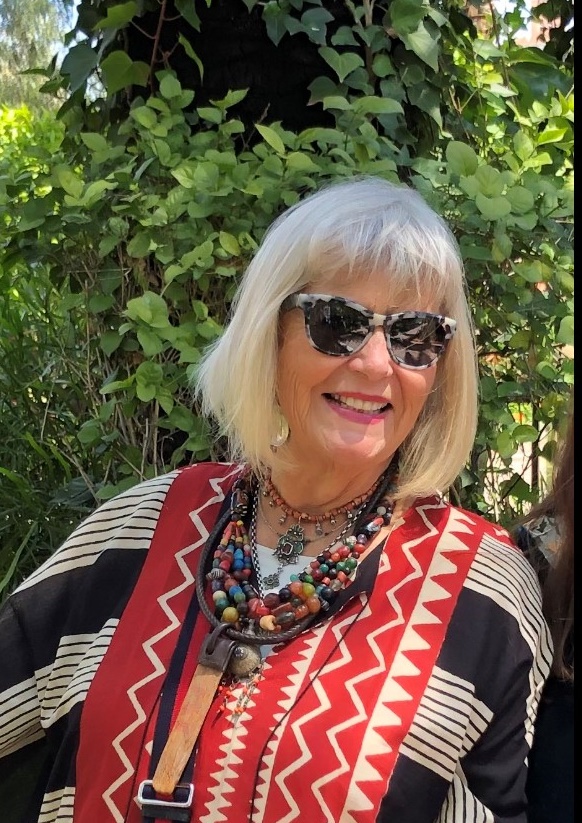 Workshop Information:
2023 Workshop Fee: $ 2250
(based on double occupancy also includes breakfast and lunch, daily
Schedule:
Arrival Day with Welcome Happy Hour is Sunday, October 29, 2023.
Departure day Saturday, November 4, 2023.
The workshop is Monday-Friday.
A Bit About the Instructor
I am a collector. A gathering of stories accompanies my projects as part of the creative process.
My formal teachings began with glass, first leaded windows, hot glass with pipes and then warm fused glass. Eventually, I moved from windows and objects into wearable pieces. I was seeking a more finished look than just beads on string so my progression led me into metalsmithing. First, I studied with a goldsmith in Portland and then moved to the Southwest and began working with Leo Coriz, Elder and revered silversmith, from the Kewa Pueblo, just south of Santa Fe, New Mexico. Further technique studies began with other artists, in particular Susan Lenart Kazmer. I have been featured in galleries, retail outlets, publications, and my work is housed in many private collections.
As a person grows in their own creative style, often the medium changes along with the finding of their voice in the stories they weave. Having glass work, object accumulation, and silversmithing under my belt I felt called to return to Assemblage work. Building story and memory boxes, creating talisman, and objectifying a shelf piques my interest more than just body adornment. Understanding and appreciating other cultures is captivating to me both the living world as well as the spirit world. Perhaps that is why I am a palm reader. Maybe that's why I create alternate realities in vessels.
So, share with me this process of exploration. Come along on this week-long journey to see what will unfold for You, the Creatives.
Supply list
Everything you bring should fit in a shoebox
Photos, or photocopies (as we may be cutting photos and repurposing)
Personal objects of importance (Charms/awards/medals/pins/dolls/etc.)
Bits of fabric/Ribbon/special papers
Round nose or needle nose pliers/cutter
Scissors
Pen/Notebook
Imagination
Additional supplies provided by Instructor:
Wood or tin container to form the base vessel (a variety for you to choose from)
Paints
Brushes
Wire
Beads
Bangles
Fabrics
Papers
Adhesives
Resin
Needles
Threads
Waxed linens
There will also be a variety of hand tools available