Mosaic Jewelry for Your Door
 marsha rafter
March 12 – 18 , 2023
Arrival on Sunday, 5 day Workshop, Depart Saturday
$2195 total cost for the workshop and accommodations for the week
Includes 5 days instruction, 6 nights lodging, and two delicious meals made by the Hacienda's personal chef and served poolside each day. There is a Welcome Happy Hour Sunday evening with delicious hors d'oeuvres and drinks. The studio is open 24/7.
I am so excited to be returning to teach in the most beautiful, inspiring, and relaxing environment of Hacienda Mosaico.
During this five day mosaic workshop, you'll learn all the skills needed to create  exterior mosaics with a focus on embellishing doorways. We'll begin with learning a variety of ways to approach the design and then you'll learn two different methods for applying your design onto the wall. Interior wall application will be discussed as well.
We'll be working as a team to surround the entry doorway of the Hacienda as well as entrances to individual rooms. Transforming a doorway is magical and it'll be a super fun experience to see what you can do in your own personal environment to add life to your wall with texture and color. Included in the workshop will be making ceramic tiles which we'll fire and incorporate into the mosaics.
This workshop is open to students of all levels. Although some mosaic experience may be helpful, it is not necessary. Should you prefer to bring your own mosaic project idea to work on for the week, that is a possible option. We will work together ahead of time to discuss and to assure that you have what you need while there.
Students will need to bring their own tools – a full list with links to purchase will be sent out before the workshop.
Optional workshop activities include:
An after class/ evening session for students to share images of their own work.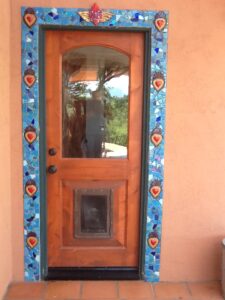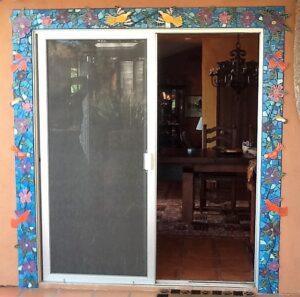 About the Hacienda….it is a magical corner of the world. This walled garden hacienda with swimming pool and inviting common areas is artist owned and operated. Art abounds! The accommodations are excellent. Every room is uniquely decorated and comfortable. Meals are prepared poolside in an open air kitchen and every meal is a treat. The Hacienda is located in a family friendly residential neighborhood. A quick and inexpensive taxi ride gets you to the beaches and wonderful shopping, art galleries, restaurants and nightlife. Puerto Vallarta is a beautiful and friendly beach resort.
Location:
The beach is within walking distance and the swimming pool is steps away from your door. Hacienda Mosaico's garden paradise is very private and filled with lush tropical plants and colorful artwork created by artists and workshop participants from all over the world. The town of Puerto Vallarta has interesting shops, restaurants, galleries. The charm and beauty of Mexico is just waiting for you to explore!
**Dinner options abound with many delicious and internationally varied choices within walking distance of Hacienda Mosaico. Puerto Vallarta is an easy cab or even bus ride away where there are more wonderful choices.
We often combine the weekly "Gallery Stroll" with a group dinner at a beach side restaurant!
Instructional Studio Sessions:
We will be working in the studio from 10 AM – 4 PM. Daily schedules will be made clear so as not to infringe on the extraordinary variety of activities that the Hacienda Mosaico and Puerto Vallarta have to offer. You also have 24 hours studio access each day. You are able to take personal breaks throughout the day whenever needed.
This workshop is open to students of all levels. Although some mosaic experience may be helpful, it is not necessary.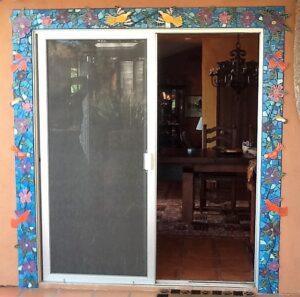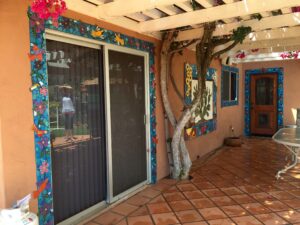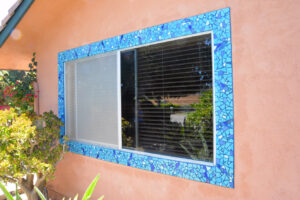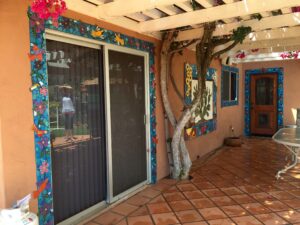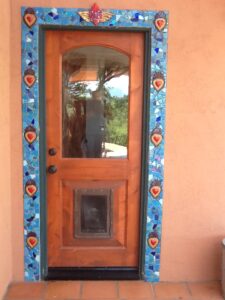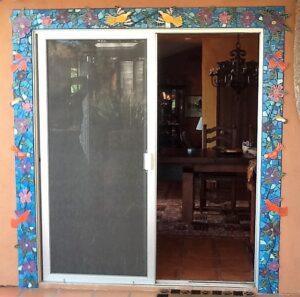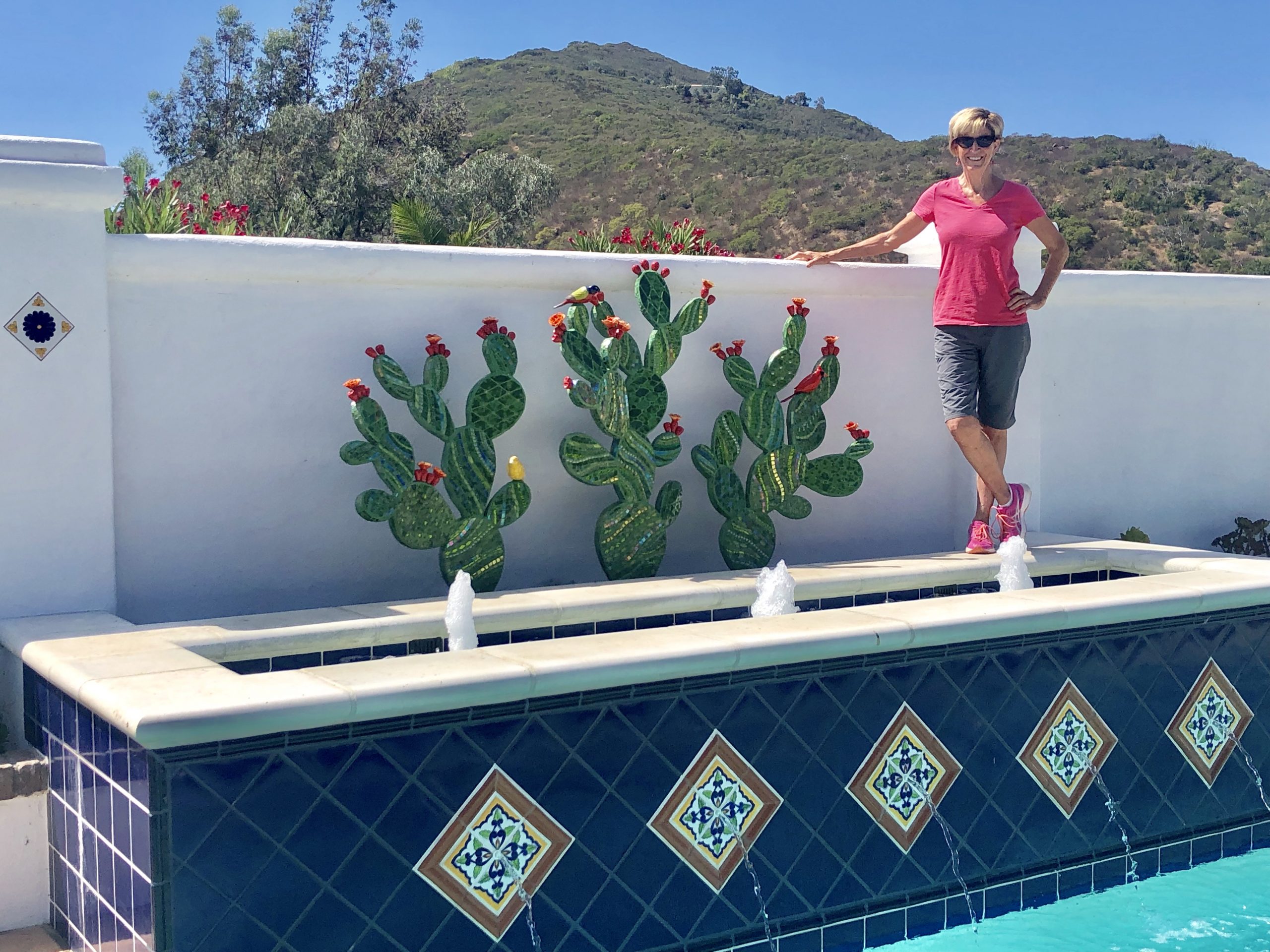 Workshop Information:
2023 Workshop Fee: $2195 (based on double occupancy)
Lodging: 6 nights & 7 days
Mosaic Art Instruction: 5 days
Unlimited Open Studio: 24/7
Meals Included by the Hacienda's Personal chef: Sunday evening welcome reception, 5 full breakfasts & 5 lunches served poolside in a tropical setting and a Saturday departure brunch.
 Fees for this workshop are handled by me directly.
Please pay by check for this class.
You can mail your deposit or full payment to:
28202 Burned Oak Terrace, Escondido, CA 92026
Hacienda Mosaico and Marsha Rafter Mosaics combined cancellation policy:
– All cancellations are subject to a $50.00 processing fee.
– Reservations cancelled prior to 60 days,will receive full refund of fees paid, less $50.00 processing fee.
– Cancellations up 60-30 days prior to workshop will receive credit in the amount paid for future workshops less $50.00 processing fee. good for one calendar year.
– Cancellations less than 30 days prior to workshop will not receive a refund of any fees paid or a credit for future workshops.
Should any workshop/retreat be canceled by Hacienda Mosaico or Marsha Rafter Mosaics, the entire amount paid will be refunded within fourteen days after cancellation.
Once this occurs, Hacienda Mosaico nor Marsha Rafter Mosaics have no obligation regarding any additional costs or fees related to the issuance and/or cancellation of airline tickets or other travel reservations.
Hacienda Mosaico or Marsha Rafter Mosaics accepts no liability for any airline cancellation penalty incurred by the purchase of a non-refundable ticket. Nor does it accept liability for
canceled flights.
Travel Insurance:
– It is strongly recommended that all workshop participants purchase Trip Cancellation, Emergency Medical Evacuation, Baggage, Accident and Medical insurance from a reputable insurance company.
– Travel Insurance 101: How to Protect Your Vacation. This 'plain language' tutorial will explain travel insurance so you can easily find the right plan:
https://www.travelinsurancereview.net/beginners-guide/
– Some more good links to review: www.travelinsured.com or www.travelsafe.com https://www.nerdwallet.com/blog/insurance/travel-insurance/
A note about accommodations: Rooms are double occupancy and pricing is based on such. If you have a roommate request we are happy to accommodate. We can not guarantee a single
room. All rooms are spacious and have en suite bathrooms. 9o% of our students are female. If you are the only male student, and we are sold out, we will house you at a neighboring property (a small, private apartment that shares a wall with the Hacienda). There is no additional charge for this space. You will have 24 hour access to the Hacienda property and studio, and have breakfast and dinner along with the other students.
Any further questions can be answered by emailing Marsha
                          at: marsha@marsharafter.com
About Marsha:
Marsha has been teaching in her studio and leading workshops worldwide for over seventeen years. Over the last five years, her focus has been on larger three dimensional pieces. With an art degree and years of work as a ceramic artist she frequently incorporates ceramic elements into her work. Her work has been selected for inclusion in several sculpture shows and she does commission work for clients for indoor as well as outdoor spaces. Learn about the depth of her experience, see her work and the work of her students on her website https://www.marsharafter.com/