prongs in paradise : dia de los muertos
with Ace Mccasland / studio luna verde
oct 29 – nov 4 , 2023
Arrival on Sunday, 5 day Workshop, Depart Saturday
Prongs in Paradise !
Are you ready to play with fire? Are you interested in exploring
unconventional ways to fabricate your own prong settings and elevate
your jewelry designs? Are you ready to gather with like-minded souls
and surround yourself with eclectic art, a magical garden, and
unlimited access to an exquisite studio space? And are you ready to
experience Dia de los Muertos IN Mexico? Come join me in Puerto
Vallarta at Hacienda Mosaico!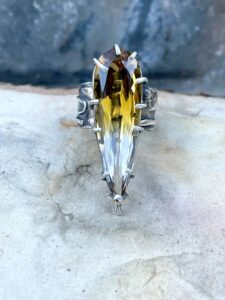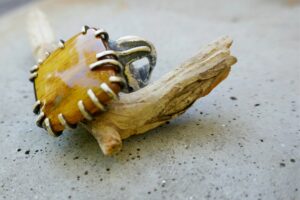 in this five day workshop in paradise, we will explore a wide range of unique techniques to grasp stones, flat or faceted , in organic hand fabricated prongs.
We will begin our immersion in all things metal (and stone) by creating a statement necklace, a piece that may express a personal story, no matter how subtle or profound, through things you have gathered throughout your journey. Then, I will show you a plethora of options to create out-of-the-ordinary, out-of-this-world ring shanks, from skinny to wide, simple to sublime, often utilizing silver scrap. With a handful of shanks ready, we will dive into creating unconventional prong settings for faceted stones. You can decide to work on one mighty statement ring, or even consider a set of stackers. Walk away with a variety of ring shanks to play with at home, or enjoy as they are, as well as a ring or two finished from the workshop.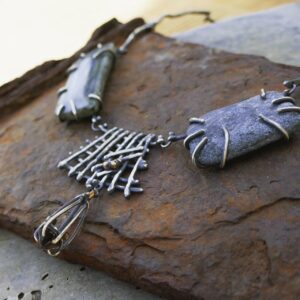 Bonus: since we are here during Dia de los Muertos, I will also sneak
in a special demonstration (or two or three) of creating dancing
calacas (skellies), or scrappy calaveras (skulls), or something
definitely relatable to this celebration of those who have passed. I
will encourage you to bring photos and/or memorabilia of loved ones
and we will also set up our own ofrenda (altar) in the studio.
There will be plenty of demonstrations and instructions each day, a poolside lunch, an afternoon work session, and lots of time to play and experiment on your own afterwards with 24 hour access to the studio, as well as time in the evenings to explore Puerto Vallarta. Recommended skill level : advanced beginner – intermediate. Experience with torch and basic metal smithing requested.
Be prepared to tell stories.
Be prepared to fully immerse yourself into an artistic landscape.
Be prepared to breathe deeply and saunter through the garden.
Be prepared to play with fire.
Be prepared to enjoy the heck out of yourself in the exquisite setting that is Hacienda Mosaico.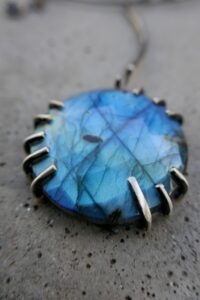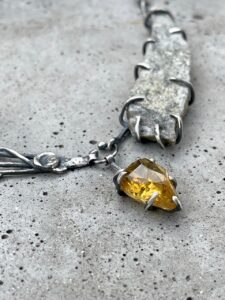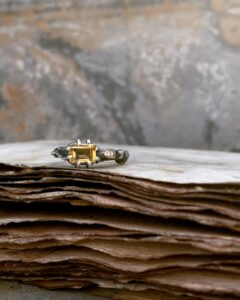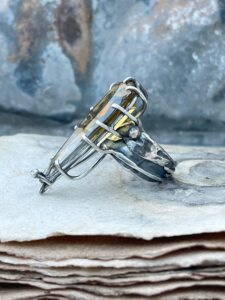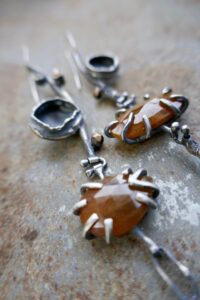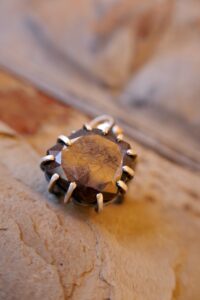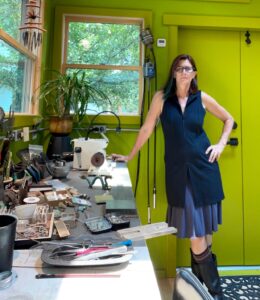 Workshop Information:
2023 Workshop Fee: $2200
supply list and kit fee to be determined.
(Images are examples of where these techniques can be taken, and may include processes not covered in the workshop.)
Workshop fee includes 5 days instruction, 6 nights of lodging, breakfast and lunch served poolside by the Hacienda's personal chef, on workshop days. Unlimited use of studio 24/7.
Website: www.studiolunaverde.com
Instructor contact : studiolunaverde@hotmail.com
Instructor bio:
Ace, of Studio Luna Verde, wandered (and settled) into the shadow of the Rocky Mountains in Colorado, after many years exploring and hiking and driving all over the western U.S., living in places like Point Arena, California / Moab, Utah / Flagstaff, Arizona. Experiences have included driving 1950s era tour buses for Green Tortoise Adventure Travel / performing for a year with a three ring circus / hiking into (and out of) the Grand Canyon so many times she's lost count / living out of a '72 Toyota Landcruiser for three (and a half) years while exploring the U.S. / and failing miserably at surfing on the Sea of Cortez in Baja California. She loves spicy chocolate, and lightning storms. Her largest creation thus far is having built her own studio, where she currently makes her eclectic jewelry and unabashedly embraces the art of imperfection.