concrete in paradise : stacked stories
february 4 – 10 2024
Arrival on Sunday, 5 day Workshop, Depart Saturday
Hacienda Mosaico is the perfect setting to immerse yourself in a creative experience! The large outdoor studio space is surrounded by tropical gardens. Mosaic murals cover the walls adding color and inspiration to this unique setting. Seating nooks in the garden encourage group gatherings or provide quiet space for personal contemplation…and then there's the swimming pool!
WORKSHOP DESCRIPTION
We'll be exploring a series of concrete forming techniques to create small elements that can exist in the concrete state or serve as substrates for further embellishment with mosaic, encaustic, or paint.
These pieces can form elements that relate to one another, focusing on theme that resonates with you, creating a small totem that holds some personal significance…a stacked story. They can also exist as independent sculptures
During this week-long tropical artistic retreat, you will receive specific information on a variety of concrete forming techniques through the combination of presentations, handouts, and demonstrations. Then it's all about all about the hands-on experience!
This workshop is for concrete fanatics as well as those who have never touched it before! I will help you build on your sculptural skills or provide a great introduction for those who have never worked three dimensionally. My goal is to meet participants at their level and grow from there!
With the information you receive during this workshop, you will be able to continue exploring this versatile material once you returned to your own creative space.
I want to help you…Make your dreams concrete!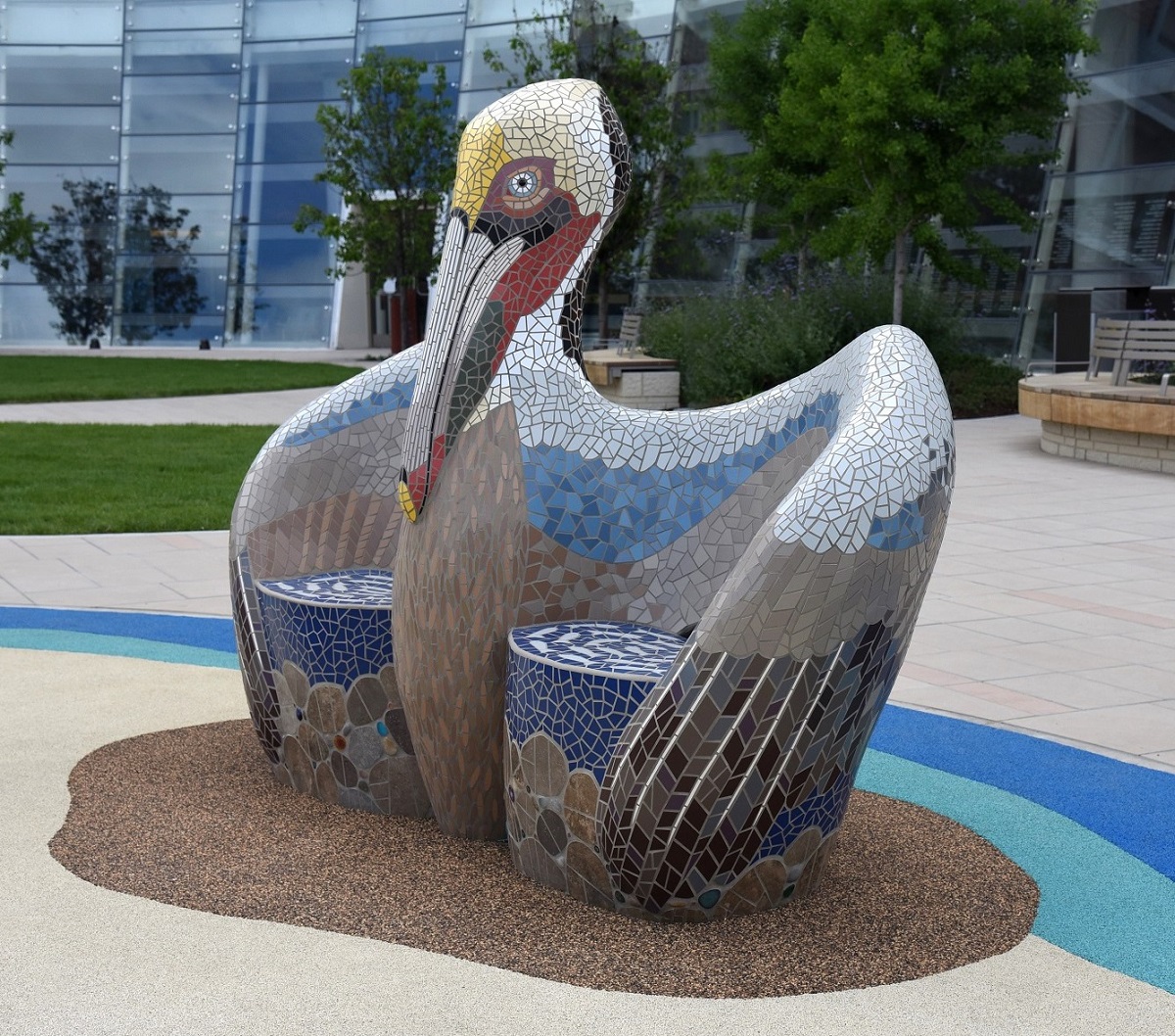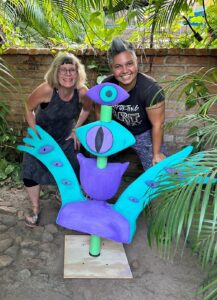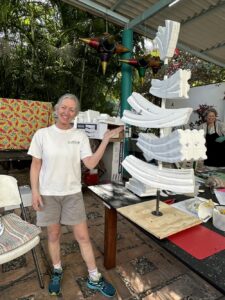 Processes that will be presented during this information packed week include:
Foam Carving & Concrete Systems
Adding metal to enhance your foam forms
Integral color for concrete, grout, and thinset
Totems construction processes

Carving and modeling concrete

Working with maquettes to scale your sculptural concepts
Pieces created at Hacienda Mosaico will be of a personal size so transporting them home should not be a problem.
I recommend packing a suitcase inside your suitcase, so you have an extra bag to pack your projects for their trip home. There is an office supply store within walking distance that has all kinds of packing materials, or you can bring some of your own.
Instructional Studio Sessions:
Basically, we will be working in the studio from 10 AM – 4 PM however some days we will be working on 'concrete time' to insure a successful project. Daily schedules will be made clear so as not to infringe on the extraordinary variety of activities that the Hacienda Mosaico and Puerto Vallarta have to offer. You also have 24 hours studio access each day.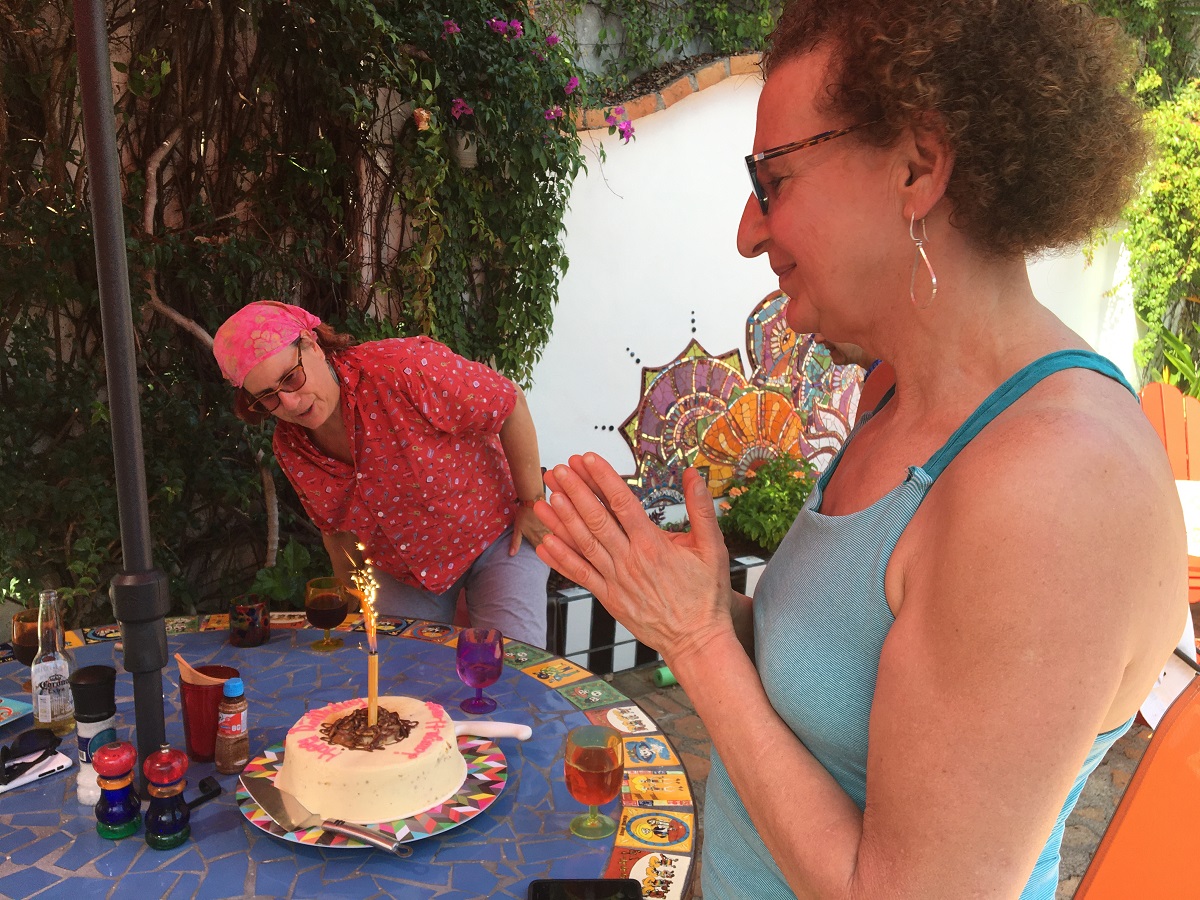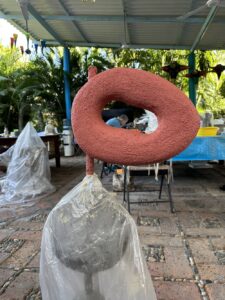 Materials, Supplies & Tools:
Most of the supplies and tools are included in the workshop price. Over the years, I've been able to source supplies locally and bring specialty items with me. I bring an assortment of tools with me however , I will be sending out a short list of optional tools once you have registered.
Location:
The beach is within walking distance and the swimming pool is steps away from your door. Hacienda Mosaico's garden paradise is very private and filled with lush tropical plants and colorful artwork created by artists and workshop participants from all over the world. The town of Puerto Vallarta has interesting shops, restaurants, galleries. The charm and beauty of Mexico is just waiting for you to explore!
**Dinner options abound with many delicious and internationally varied choices within walking distance of Hacienda Mosaico. Puerto Vallarta is an easy cab or even bus ride away where there are more wonderful choices.
We often combine the weekly "Gallery Stroll" with a group dinner at a beach side restaurant!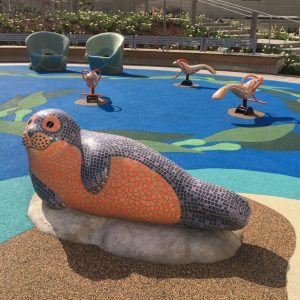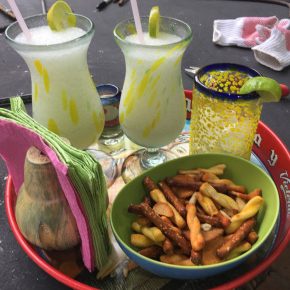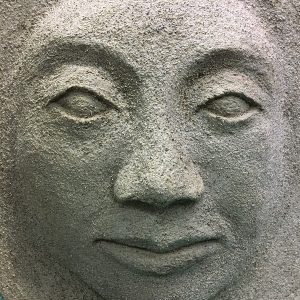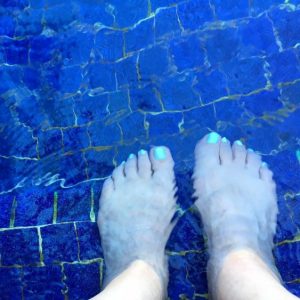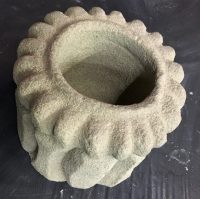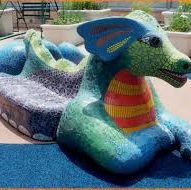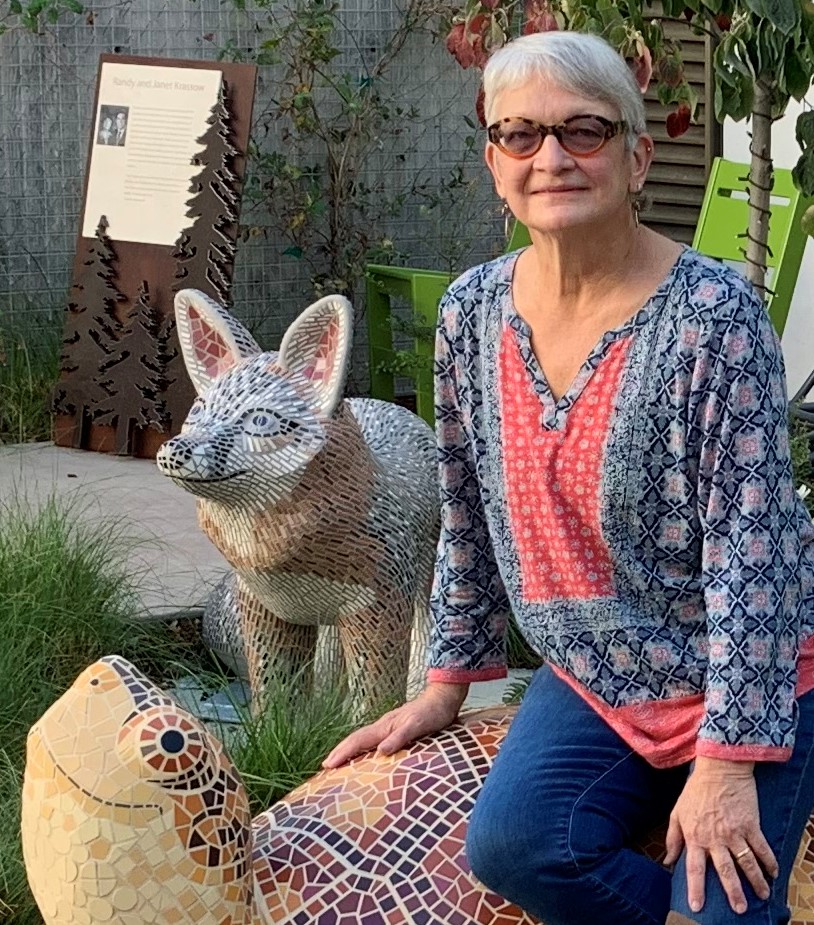 Workshop Information:
2024 Workshop Price: $2200 (based on double occupancy)
The price of the workshop includes:
Lodging: 6 Nights, arrive on Sunday; depart on Saturday
Instructional Studio Sessions: 5 Days
Workshop Materials and Supplies*
Open Studio Hours: 24/7
Meals** : 6 Breakfasts & 5 Lunch are served poolside.
The food is delicious, healthy, and beautifully presented!
Dietary concerns should be noted at registration so they can be addressed.
Sunday Welcome Reception! This initial gathering is a great way to meet other workshop participants and provides an important orientation to Hacienda Mosaic while enjoying Sam's generous hospitality.
Payments:
Questions,registrations, and payments should be made to SWH Art Studio Inc.
: https://swhartstudioinc.wpcomstaging.com/registration-form-for-2024-concrete-in-paradise/
All bookings require a 50% deposit.
Deposits can be made either on my website,using the PayPal button or by check.
To secure your place in the workshop, we must receive the deposit within 10 days of your reservation.
The balance is due 30 days prior to the start of the workshops , January 4 .
Hacienda Mosaico and SWH Art Studio Inc. combined cancellation policy:
– All cancellations are subject to a $100.00 processing fee.
– Reservations cancelled prior to 60 days,will receive full refund of fees paid, less $100.00 processing fee.
– Cancellations up 60-30 days prior to workshop will receive credit in the amount paid for future workshops less $100.00 processing fee. good for one calendar year.
– Cancellations less than 30 days prior to workshop will not receive a refund of any fees paid or a credit for future workshops.
Should any workshop/retreat be canceled by Hacienda Mosaico or SWH Art Studio Inc. the entire amount paid will be refunded within fourteen days after cancellation.
Once this occurs, Hacienda Mosaico nor SWH Art Studio Inc. have no obligation regarding any additional costs or fees related to the issuance and/or cancellation of airline tickets or other travel reservations.
Hacienda Mosaico or SWH Art Studio Inc. accepts no liability for any airline cancellation penalty incurred by the purchase of a non-refundable ticket. Nor does it accept liability for canceled flights.
Travel Insurance:
– It is strongly recommended that all workshop participants purchase Trip Cancellation, Emergency Medical Evacuation, Baggage, Accident and Medical insurance from a reputable insurance company.
– Travel Insurance 101: How to Protect Your Vacation. This 'plain language' tutorial will explain travel insurance so you can easily find the right plan: https://www.travelinsurancereview.net/beginners-guide/
– Some more good links to review: www.travelinsured.com or www.travelsafe.com
https://www.nerdwallet.com/blog/insurance/travel-insurance/
LINK TO HERE:
Workshop Payments :
50% Deposit for "Concrete in Paradise" at Hacienda Mosaico ,
at Puerto Vallarta , Mexico, 4 -10 February 2024 : $1100.
Biographical Information
Sherri Warner Hunter is the creative Force behind SWH Art Studio Inc. She's a sculptor, mosaic artist, author, and teacher.
The Studio's production concentrates on large-scale public commissions and community-based projects. Hunter's work is included in numerous private collections, and publicly at Lucile Packard Children's Hospital at Stanford University, Palo Alto, CA (designated one of one of CODAawards Top !00 in 2019); The Executive Residence of Tennessee, Nashville, TN; and as part of the First International Mosaic Intervention Project in Puente Alto, Chile.
In 2019, Hunter was head of the Host Committee for the Society of American Mosaic Artists in Nashville and focused much of her energy developing, designing, and curating mosaic exhibitions in prestigious locations throughout the city. Last fall, she was a presenter and workshop instructor at the British Association of Modern Mosaics Forum in York, England.
Hunter has written two books: Creating Concrete Ornaments for the Garden and Making Concrete Garden Ornaments (published by Lark books) developed from expertise honed through decades of teaching.