January 21 - 27, 2018
Arrival on Sunday, 5 day Workshop, Depart Saturday
Sherri Warner Hunter
Concrete Garden Art in Paradise!
Bowls, Masks, Pots and more…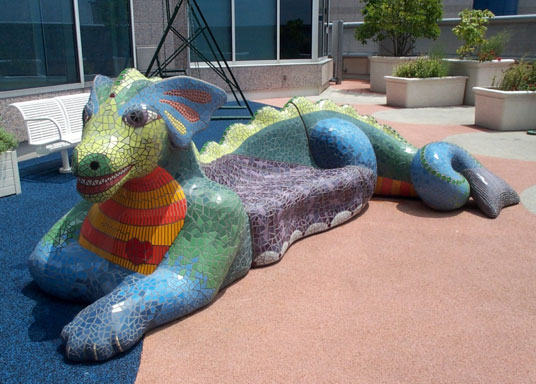 This workshop will be loaded with valuable information for anyone interested in creating original 3D forms to mosaic (or remain concrete) for personal expression, commissioned projects, or beautifying your garden.

Armature building with metal and foam carving for lightweight concrete systems will be central to your experience. Carving, modeling and coloring concrete will enhance your forms; and reverse cast mosaics and embedding will open additional creative possibilities. Daily demonstrations will expand your ability to create sculptural imagery that is uniquely yours!
Workshop Summary

Lodging: 6 nights and 7 days in a beautiful artist's retreat close to the beach
Instruction: 5 days with optional 24 hour studio access
Meals: Welcome Reception Sunday evening, 6 full breakfast and 5 amazing lunches prepared
by the Hacienda's personal Chef and served poolside in a tropical setting.
Materials & Tools: Most materials and tools are included however;
a short list will be included with your confirmation.

Cost: $1950 (based on double occupancy)
Additional activities: Exploring Puerto Vallarta, gallery crawls, site seeing, sampling local cuisine, and shopping. The pool is always open!

This experience can be as relaxing or active as you want it to be!

If you have any questions about the workshop, please feel free to email me.
Email Sherri:


Questions regarding availability, registration, and payment should be directed to: Sam @

Visit Sherri's Web Site:
https://swhartstudioinc.wordpress.com/
About the Instructor
Sherri Warner Hunter is a full time professional artist and owner of SWH Art Studio Inc., located in the bucolic suburbs of Bell Buckle, TN. Her award-winning artwork and public commissions can be viewed in numerous states from New York to California as well as private collections. Always an avid supporter of community engaged artworks, Hunter is a former president of the Community Built Association and has been the lead artist on many projects in schools and parks.
Hunter has taught workshop for over 30 years on subjects ranging from Sculpture, Concrete, Mosaics, and Professional Practices for Artist, throughout the US, Internationally, and at her studio in Bell Buckle. She's an active member of the Society of American Mosaic Artists (SAMA) and Tennessee Crafts, and is often involved with mentoring, presentations, and programs for both organizations.
Hunter has also authored two books on working with concrete, the most recent, Creative Concrete Ornaments for the Garden, was published by Lark Books, a division of Sterling Publishing.

Trip insurance is strongly advised.
Travel Insurance 101: How to Protect Your Vacation
This "plain language" tutorial will explain travel insurance so you can easily find the right plan.

- top -
For information and reservations
contact Sam @