Build sacred personal adornment
by susan lenart kazmer
27 nov – 3 december , 2022
Arrival on Sunday, 5 day Workshop, Depart Saturday
A piece of jewelry is more than just a beautiful accessory and more than the sum of its parts. Jewelry throughout history has been used and built for many reasons such as cultural storytelling + folk tales, which will cherish + hold a memory through time as an important marker in cultural history that is important to a community.
Jewelry also provides an importance of self expression by building authentically with one's own idea of personal symbolism, shapes, materials, colors of stones and gems, lengths and which parts of the body a specific piece is worn upon.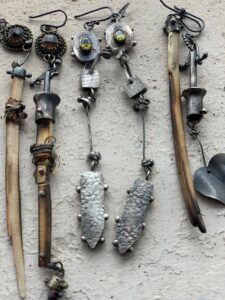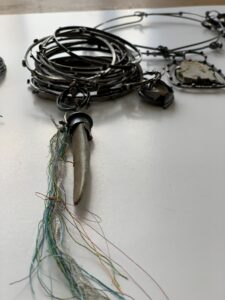 jewelry can also be a declaration of status and identification of who a member is in a community such as shaman, a leader, warrior or hunter.
I find it the most fascinating as jewelry in its original form being used in by us in cultures as percussion +movement in ceremonial dance.
Jewelry holistically through time has been a documentation of cultural and historical beliefs. We can understand a culture by the symbolism of sacred personal adornment.
I personally witnessed unique and beautiful jewelry built to be used in cultural sacred dance + movement in small villages and marveled at being able to witness their ancient traditions.
History, art, tradition and culture cannot help but be a big influence on adornment. Culture becomes embedded into this medium through every stitched or stamped symbol in fabric and every carved and engraved mark in m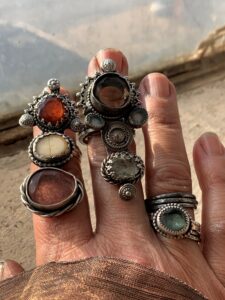 Through a series of gentle but energizing creative movements, meditations, celebrations be shifted into a creative space to build sacred personal jewelry and explore deeply into metal techniques, cold + hot connections, through exploring your own personal objects and their meaning.
This workshop will worry less about the outcome of a perfect beautiful piece but my goal is to offer a place of peaceful, sacred self expression and a notebook full of ideas to alter and use in your future work stemming from ideas in the classroom.
you will explore soldering, cold joins and the building of raw precious material + gems for the sake of exploration and insight into your own work.