mosaics in mexico with bonnie fitzgerald & kim Wozniak
Finding Your Voice, and Expressions in Mexican Smalti
february 18 – 24 2024
Arrival on Sunday, 5 day Workshop, Depart Saturday
Join us for an exclusive retreat workshop, designed specifically for Hacienda Mosaico. This is an amazing opportunity to work with two experienced and dynamic instructors, who will guide you in defining a clear vision for your artwork and teach you techniques to create professional and polished pieces with joy.
Thanks to our partnership with the Perdomo family and their factory in Cuernavaca, Mexico, we will provide you with a hand-picked selection of materials to work with, making this experience even more unique and exciting.
The workshop starts off with two days of experimentation and exploration of the obstacles that hinder the creative process. This interactive mosaic experience combines lectures with hands-on art, aimed at helping beginners find their own voice while offering tips and techniques to intermediate and advanced-level artists to overcome creative blocks.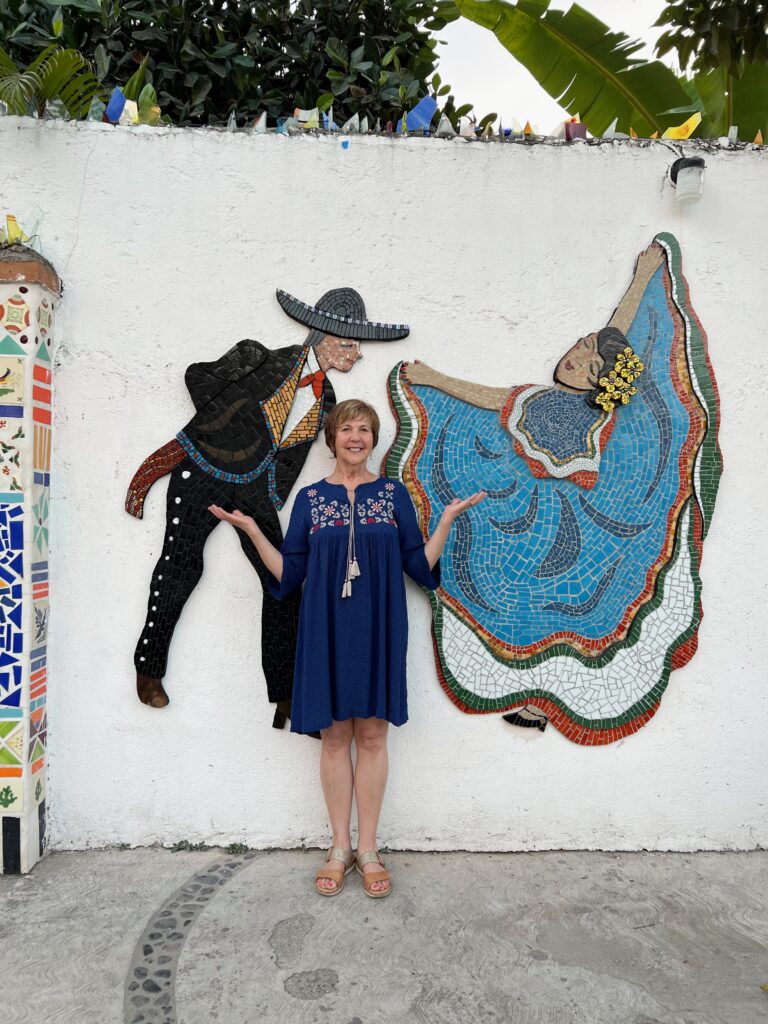 Over the course of the next two days, you'll be creating a beautiful artwork using smalti, which includes color mixes of standard cuts, tortillas, glass pebbles, and other materials made in Mexico.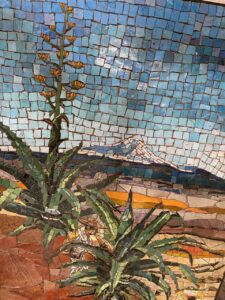 Throughout the week, instructors will work with each student through the process of planning and designing a future project. This will involve creating preliminary sketches, selecting suitable materials, scaling your design to the desired size, choosing the appropriate andamento, and determining the fabrication method. On the final day of the studio, each student will present their designs and plans to the group.
At the end of the workshop, you'll have acquired the necessary skills and confidence to start working on your own exciting project that truly represents your unique style and vision.
Materials for inspiration exercises and 10" x 10" art work provided. Instructors also provide freeze/thaw-rated thin-set mortar and substrate.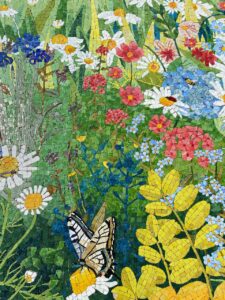 Students are responsible for bringing the following:
Good quality mosaics wheel tool (LePonitt or QEP Extreme)
Ceramic nipper
Small Spatulas
Safety Glasses
Picks and tweezers, other basic tools you like to work with
Graph paper and design materials (ruler, pencils, eraser, colored pencils, etc.)
Approximately one pound of mosaic materials to share with the group (a note will come about this in early December, nominal expense, you may have in your stash).
Optional:
Table top hardie and hammer (instructors will bring a few for sharing).
All levels of experience are welcome.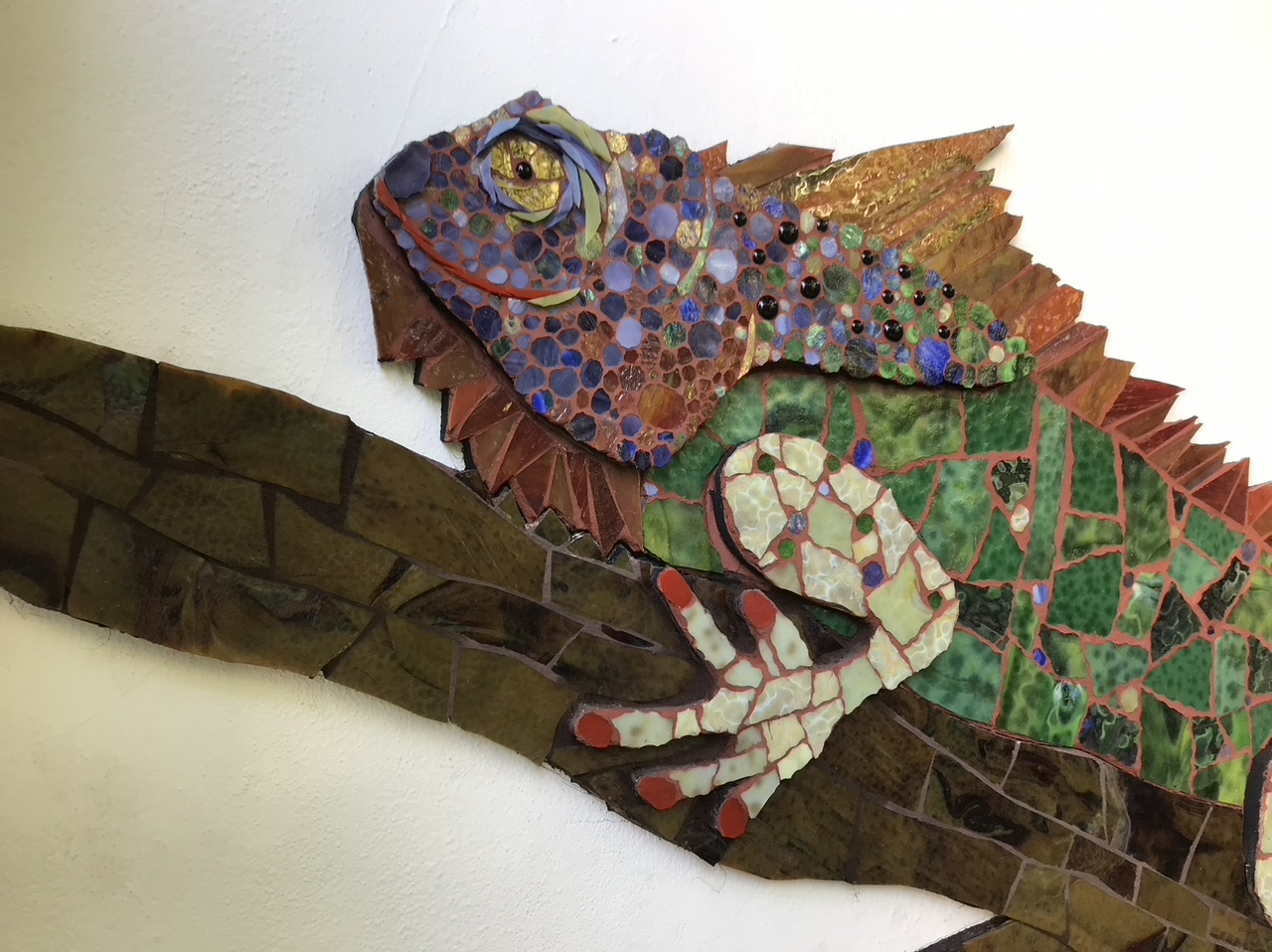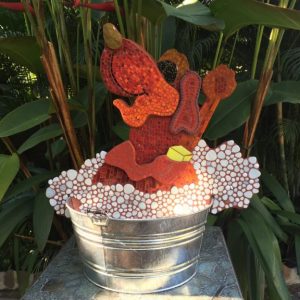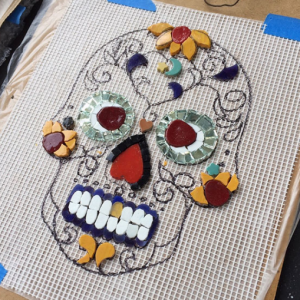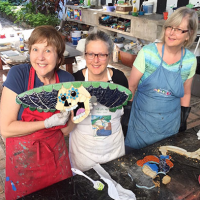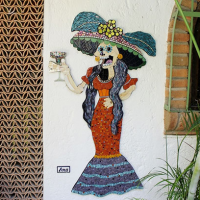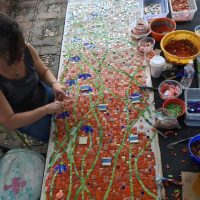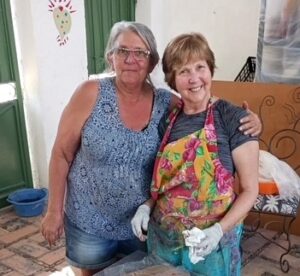 Workshop Information:
2024 Workshop Fee: $ 2225 (based on double occupancy)
WORKSHOP FEE INCLUDES 5 DAYS INSTRUCTION, 6 NIGHTS OF LODGING, BREAKFAST AND LUNCH SERVED POOLSIDE BY THE HACIENDA'S PERSONAL CHEF. UNLIMITED USE OF STUDIO 24/7. AIRFARE IS NOT INCLUDED, STUDENTS MAKE THEIR OWN AIR TRAVEL ARRANGEMENTS.
Fees for this workshop are handled by Maverick Mosaics, click here to sign up, and please be sure to review the cancellation policy. A $500 deposit secures your spot, with payment in full due December 15, 2023.
Student check in Sunday, February 18, check out Saturday, February 24, 2024. Workshop Hours: 10am 2pm Monday through Friday, optional open studio hours evenings.
Please note that all rooms are designed for double occupancy and their pricing is based on that. If you are attending the workshop with a friend let us know and we will assign you as roommates. Please be aware that we cannot guarantee a single room. All rooms are spacious and equipped with en suite bathrooms. A majority (90%) of our students are female. In the case you are the only male student and we are fully booked, we will provide you with a private apartment located just a half-block away from our Hacienda property. Please note that a nominal charge of $350 for the single supplement will apply. You will have 24-hour access to the Hacienda property and studio and will be provided breakfast and lunch along with the other students. For more details, please contact Bonnie.
Additional nights inquiries must be requested directly to the Hacienda owner, Sandra Leonard: info@haciendamosaico.com
Learn more about this workshop visit maverickmosaics.com
REFUND AND CANCEL POLICY FOR HACIENDA MOSAICO WORKSHOP: 90 DAYS NOTICE OR MORE REFUNDED 100% OF YOUR PAYMENT TO DATE, LESS A $100 ADMIN FEE. 89-45 DAYS NOTICE OF CANCELLATION 100% OF YOUR PAYMENT LESS $250 ADMIN FEE. LESS THAN 45 DAYS NO REFUNDS. NO EXCEPTIONS. WE URGE YOU TO PURCHASE TRIP INSURANCE.
Note USA citizens, check your passport expiration date before committing to a trip!
CLICK BELOW FOR LINK:
www.maverickmosaics.com
Meet Your Instructors: Bonnie & Kim are the founders of the Make it Mosaics YouTube Channel and store. Together, they have created art and tool kits, produced over 75 information-packed YouTube Videos and most recently launched Make it Mosaic Online Learning Center.
Bonnie Fitzgerald is a well-known artist, educator, and author who is passionate about spreading the knowledge of mosaic education. Since 2014, she has been the exclusive instructor of Mosaics for the Smithsonian Institution's Studio Arts Program in Washington, DC.
With the aim of expanding the art of mosaic education, Bonnie has authored two best-selling books – "300+ Mosaic Tips, Techniques, Templates and Trade Secrets" and "Bonnie Fitzgerald's Guide to Mosaic Technique". Both books are the result of her extensive expertise and collaboration with other artists over the past 20 years. Her book "300+ Tips" has been translated into five languages.
Bonnie also leads art-filled travel trips and workshops to Europe. This year will mark her 12th year of teaching at Hacienda Mosaico.
Kim Wozniak, the owner of WitsEnd Mosaics and Smalti.com, is a trained artist with expertise in architectural design and construction. After leaving her corporate job, Kim decided to pursue her passion for art and construction by specializing in mosaics.
Kim's unique style has been widely recognized by the mosaic community and has led her to create public and private installations worldwide. She has contributed to several large mosaic projects in Chile, Germany, and Italy, and her fine art mosaics have been exhibited internationally.
In 2011, Kim was one of three Americans representing the United States at the prestigious biennial exhibition in Ravenna, Italy: Ravenna Mosaico – Works of the World. She has trained in mosaics with experts from Italy, Mexico, and the US. Her work has been featured in various publications, including "The Craft Report," "Breakout," and "Mosaic Art Today."
To secure your spot, and to learn more about Bonnie and her varied activities, visit www.maverickmosaics.com. Feel free to contact her with any questions or concerns. bonnie@maverickmosaics.com